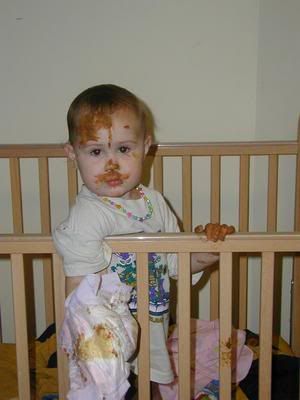 I must say that having six children with five still in diapers / pull ups I feel I can say that POOP HAPPENS!
Actually it happens quite a bit in our household, usually about two times a day for each child! That is a lot of POOP!
Yesterday I swear within one fifteen minute period each one of my children filled their pants or the potty…depending on the individual child. It was that horrid smelling, you would have thought I feed them fish sticks, grainy green pooh! I usually refer to this as dark matter (one of them makes it on a regular basis in little balls no much larger than bunny poop) and it can clear a room in a matter of milliseconds!
So to cheer me up….Eric pointed out the following link on You Tube! In a "cheer me up" email!
Lil' Pooey Poo: I will run from you!
http://www.youtube.com/watch?v=I1Y4j_QQoZU
I actually really enjoyed getting this in my email from him! It is hard to believe that such a funny cartoon could brighten my day….but I really felt like running away from all the diapers and the stinky bottoms yesterday.
Also another funny was Eric trying to convince me that since Adrian is potty trained and Melea is part way there …my "poop" filled days will likely be getting fewer and less hazardous…course he probably doesn't get to wipe as many bottoms as me either.
This brings me to the next logical step…..toilet paper. This happened last week. I sent Eric for toilet paper the other day in Wal-Mart and he came back with the "triple rolls". I really looked puzzled. He knew they were the brand we buy…but I never by anything but the "little" rolls. He said so proudly "Look these will save us 59 cents than our usual other one". ….Usually that would be a great thing….and I was really excited he was thinking …but I know now that he doesn't take the kids to the bathroom enough.
The rule of thumb for toilet paper use in our house seems to be: one roll per week for the adults in the house and 6 rolls for the children. No you would not think that so bad unless you realize that only Adrian uses the potty consistently.
In fact Adrian uses enough paper to measure 3 times her height for each potty trip! If she pooey's it is almost double that! All I could see was how stuffed up Adrian was going to make our toilets…the added cost of toilet Drano…and possible the plumber…plus the need to get the septic pumped more often!
How many mornings have I awoken to find an entire new roll on the floor….I even have a special spot I put this paper in and just use it for myself…..because I would like to say I am environmentally conscious…but I AM JUST A CHEAPSCAPE!
I often wonder why children are so enthralled by unrolling toilet paper, I marvel that they love to make flowers or other things with it (that was my specialty as a child…it drove my grandma crazy too) … I guess I shouldn't be surprised that Adrian likes it too. I should not complain too much because I even been known to get excited because of all the fine motor control and physical stamina it has taken for Miranda to stand an unroll a whole roll of it…..
But still the thought of a wasted triple roll just made me grimace….cause I new it would just make a bigger mess…but at least I could get given one whole dozen of Adrian's toilet paper flowers instead of the usual two or three…and they will make me smile the next time I am changing all those diapers and wiping the stinky bottoms!