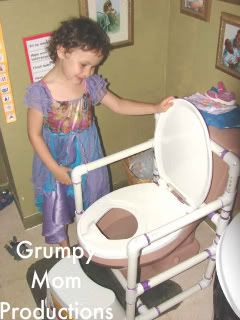 Daddy - We just want to say thank you for the toilet seat! Or it is totally amazing what you did with PVC pipe and glue and a seat from Target!
Eric took the time this weekend to make five toilet surrounds for all of the bathrooms in the house and to install the new potty seats.....which I have to say are amazing!!!!) they flip down or up and you have a big kids and little kids seats, they are easy to clean and Colin no longer is petrified and gets on and off the toilet himself (all the time)
This is
supposed
to be the summer we manage to potty train Colin,
Melea
and start with Eliza & Big D! Well daddy made us these new seats cause we had a lot of little ones with fears of falling off and I saw some on
EBay
for almost $180 each.......
Well super dad says....we can do that...... so about 7 hours, and $80 of PVC/glue and elbow (and the requisite three trips to
Lowe's
) we have five potty chairs that are kid friendly and sturdy (also easily removable if you have a "huge butt" according to Adrian......I am sure she was taking about me!)
The kids love them and for the first time Colin is doing most of it himself...... if I could just get him to have some muscle control in his bladder...... then maybe we could beat this diaper thing!
Melea
is doing great though!