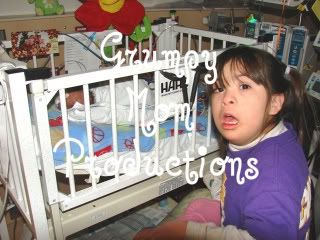 We took
Melea
and Adrian to the hospital today.
They had a field trip to the science center with school (Eric went..... this could be a post in itself)...... all I know is Eric said never ever again and he didn't even ride the bus with the 40 kinder
gardeners
! (nor did he take photos.... he was worried about loosing the camera)
This was
Melea's
first visit and Adrian's third. We decided to wait until he had a few less tubes and wires.
Melea
was still worried that the IV was hurting him...... she kept telling me about the baby's IV and his "boo boos" . She was also afraid to tough him. (Good plan cause she came down with a stomach ache and virus 24 hours later)
Melea
really loved meeting her new brother!!!!)
Eric and I took the girls to lunch a the Children's hospital cafeteria! The love to eat at the cafeteria and to sit and watch the fish in the tanks!!!!! This is something they beg for ever time we go to the hospital for a specialist visit!!!!!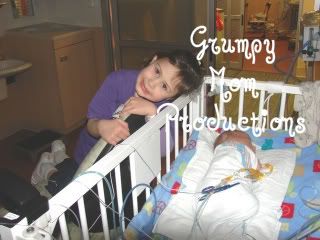 I did have a great morning visiting with Emerson! I brought in clothes and
soothie
bottles for him. He will almost be up to enough to use our bottles
with
the breast milk soon!
He can start wearing clothes and hopefully we are a step closer to coming home! I know the girls and Colin are ready!
We also took the girls to the sibling play room and were able to leave them for a almost 2 hours! They loved it!!!! Eric was a little late at picking
them
up......he fell asleep! But it was an awesome service and the girls loved it so much.
My legs and feet still suck!!!..... they are still very painful..... and I am having to pick them up to move them! However about 2/3 of the water is off my hips and upper few inches of my
thighs
then it balloons out (think Popeye arms but on my legs!)
Can't wait to take the girls back........ girls want to go.... but to the Sibling Playroom not to see their brother!