I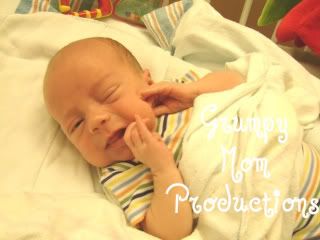 took Colin to visit Emerson today. He kept singing "no nose" and pointing to his own face. Now I am such a horrible mom cause I just nodded and smiled at him and
pretend
I had a clue of what he was trying to say! He just kept repeating it and was so excited!
He usually is really excited when we visit Emerson, so I did not think this was that unusual. All the way home we was telling me "no nose"! and "feel good"
About two hours later I realized he was trying to tell me that Emerson had nothing in his nose!!!!
Which I knew....... his feeding tube came out that morning, but I was surprised that Colin remember the tubes and was really so excited to learn that he was realizing that this must make Emerson (or possibly himself or me) feel better. Now I just have to wait for him to quit asking when Emerson is coming home....... he is just as annoying asking me
everyday
as I am sure I am to the doctors!
So congratulations Emerson...... no
NG
tube today!