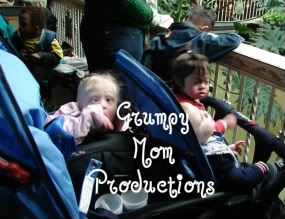 Miss Kay;a and I took the children to the zoo Saturday (in between my
NICU
visits). But he weather has been so nice we just had to get out and try the new quad stroller!!!! It just wasn't the same without Emerson, but Miss Kayla and I really were as excited about the stroller as we were about the 60 degree
temperatures
.
It was not the best zoo trip we have ever had. They have the high way all torn up, so it took forever to get into the parking lot after we got to the Zoo area. (35 minutes of mom why aren't we moving....... I love irony in the fact I was so excited for them to learn to talk...... then I was just praying that we parked before my patience wore too thin!)
We had to get lunch...... and of course my kids do not understand "lets wait till 1:30 pm.... crowds will
be
less....." Cause when they are hungry, they are hungry! So we waited in another line..... almost 40 minutes to get food with
Melea
and Adrian in line with me...... talking to me about how long the line was and crying how hungry they were.
Irony of irony, as we got one away from ordering, Adrian had to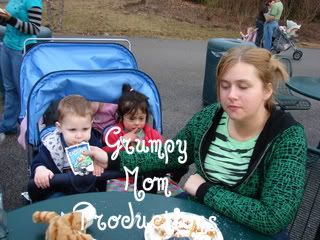 pee!!!! I told her she had to wait....... we weren't getting out of line, Kayla had the other kids outside watching the geese and other water foul while trying to round up enough chairs for the family. I really wasn't sure whose job was worse!
We all enjoyed our lunch. The kids got a kick out of feeding the ducks and geese the french fries. (not the original plan), but Devon decided to toss his food off the table and it made it down onto the melting ice in the pond. Adrian and Colin were so amazed that the birds were not slipping on the ice as they fought over the food!
We then went to the reptile house to see the snakes...... we found out we do not like hills with the new stroller!!!! Course I really want to have a zoo that is not built on hills to
make
MY LIFE easier! But we managed to make it up the big hill and spend about 25 minutes looking at all the reptiles and amphibians in there till the low light made Devon angry!.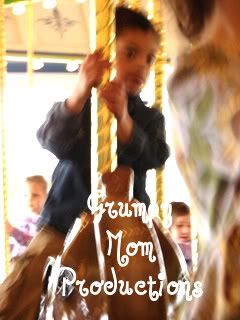 We had to sing to Devon all the way through the ape, and chimp exhibit (all of us .... including Adrian &
Melea
while Colin held his hand). We then went to the
carousel
.....
and
took a whirl, though
Miranda
was so adamant that she wanted to ride again....... she turned around and climbed back on after we had left and were loading up the stroller (she climbed under the bars)!
We then went to see the bears and the
penguins
and puffins!!!! That
stroller
is huge.....33" across but we made it in and out the door at the
penguin
house! That was really exciting. Devon and Miranda both really enjoyed the
penguin
house today and tried to tell me about them. Eliza does the best sign for penguin with her whole
body!!!!
We then
stopped
at the front of the bug house to play a little. Colin,
Melea
and Adrian climbed all over the large
beetle
!!!!! They had a blast for almost 10 minutes. Then they started posing for photos!
I love taking their pictures!!!!
But the coolest part was when Devon signed play!!!!! I decided to let him out of his wheel chair at this time because there were only children bigger than him on the bug or around at that moment. (
remember
he still likes hitting other children smaller than him when he wants to play with someone)
Well he took my hand and we both walked over to the bug, he pointed to it and
wanted
me to help him up! He said mom and pointed!!!!! Well I let him climb up and watched him as he made plans on how to get up higher and closer to
Melea
(she is his new best friend and
substitute
mom)!
It was
amazing
to see him making these plans and then see him smile as he carried them out!
Melea
was jumping up and down on the bugs head cheering him on and Colin ran around the side to "catch him" if he feel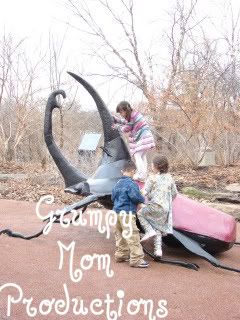 off......
OK
maybe he was going to hit him and that encouraged Devon to stay on...... but we can think he would catch him!
Devon finally made it up to the head, and held on with Mom and Kayla in arm's reach...... but I really did have to step back to take this photo..... we were both amazed......
especially
with the fact we really forced ourselves to stay a the zoo when he was having one of his "pumpkin moments" and the onlookers were staring at the crazy lady singing "
Itsy
Bitsy
Spider " for the 30
th
time!
Course he "slid / plopped off" a few seconds after I snapped it, but it was amazing!!!!
Next we stopped for
pretzels
and funnel cakes before we were to go home. Adrian went up to order with me this time, while Miss Kayla got every one juice and sat down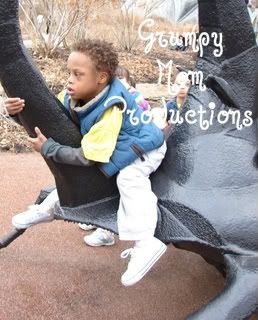 and got ready for the bathroom parade to come. Adrian spent about 5 minutes telling me how much she likes
pretzels
and NOT funnel cakes...... they would be an "unhealthy" choice. Now I love
pretzels
and so does daddy (he never had a funnel cake till last year..... I guess not enough Church festivals in upstate NY)...... so Adrian had to have a
pretzel
to share with
Melea
........ So I bought two of each!
The kids were waiting and really hungry again! They all asked for a
piece
of
pretzel
. However I found out none of them really wanted them.......
Melea
handed me back her chewed on piece and Jordan tried to put it into my mouth when I leaned over to check his juice box...... just what I wanted
pre-chewed
pretzels
!
This whole time Adrian is telling all of us how "bad" the funnel cakes will be....... well they finally are ready, I go get them....... everyone now looks like they are having fun dumping powdered sugar all over their hears..... Colin looks the best, next thing I know Adrian has shoved her
p
retzel
to the side and is devouring
Melea's
funnel cake!!!!! I get told she thought a "
pretzel
" was a funnel cake, and she really wanted the one with the white stuff!
Devon also successfully tried funnel cake for the first time! This
time
it didn't get spit back out at us and while Kayla took
Melea
, Colin and Adrian to the bathroom he kept trying to eat their parts that were on the table after he finished his! It was amazing to see him keep signing more and please. I had to go back and buy a third!
After our fun and long day at the zoo.... I took the kiddos home and then went back to spend the night with Emerson at the
NICU
! But it sure was a fun day with the kid!