Eric and I have been busy getting the house ready (if cleaning three to five days before anything.... means it will still be clean when he comes home
LOL
) ; We have taken the
requisite
CPR & First aide classes; watched all the videos and I am supposed to learn how to take care of a baby on Friday (I guess previous experience and having seven counts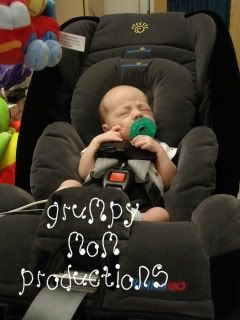 for little!)
But we passed the last hurdle this
morning
(other than the obvious of getting the orders and running out the door!)...... we sat up in our car seat for two hours! No saturation drops and no heart rate issues! Yeah for Emerson!!!!!
But of course I think I deserve a round of applause, I bought the car seat, made dad install it in the car (so it could be inspected) then I unhooked it from the van, and carried it with all my "crap" and my computer into the
hospital
got it to the
NICU
(it weighs 29 lbs and is dead
weight
) at 4 am! I also got it back to the car later on my way to the
Melea
and Adrian's valentine parties.
S0 I think mom deserves a little congratulations too!